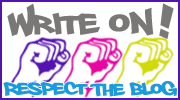 I'm jumping on the bandwagon. I was alerted to this "issue" at
Brit Gal Sarah's
blog. You can take a look at her post about it, or go to the original source -
Don Mills Diva
, who is up in arms (and rightly so) about a recent article in the Times Online. "
Danger Online; Perils of Revealing Every Intimate Moment
", talks about well, revealing everything in your blog. Why some do it and what the consequences can be. You know the story; we've all debated it in the blogosphere and sorted out in our own minds how far we want to go there.
DMD is upset at the extensive quotes attributed to her, that were done in a completely different interview for a completely different publication. She's a trained, professional journalist herself, and objects to the shoddy work in the Times piece, especially when they are basically complaining that bloggers are ruining professional journalism.
Me, I just think it's absolutely laughable that a journalist should question the motives, morals or consequences of spilling your guts in a blog. Didn't we just spend a mind-numbing two years or something re-living Liz Jones' failing marriage and subsequent divorce in the Mail? And what about John Diamond's harrowing account of his ultimately unsuccessful battle with cancer? Yes, it was moving and educational, but you couldn't get more personal than that.
Every blogger knows that there are consequences when posting online, and as
Potty
pointed out in the Times Online article, it's almost impossible to remain anonymous. We all make a choice about how much of the personal stuff we write about. Some are just very private people, while others are motivated to keep schtum by the possibility that someone living up the street will read the blog.
Given the dire straits of print media at the moment, whether it's traditional books, newspapers or magazines, it's no wonder that journalists are looking over their shoulders. Why pay when you can read educated, informed and hilarious material online, for free? And with the plethora of talented writers blogging, it's putting a lot of so-called journalists to shame.
Take a look at the original article, copy the "Write on" logo and then blog about it.
In the words of Don Mills Diva:
I think everyone out there who blogs with passion and with creativity and with skill should speak up and declare themselves a Writer with a capital W. I think it's time that all bloggers, especially daddy and mommy bloggers (no, I don't resent that term - I embrace it) should demand the respect that their traffic, their influence and their talent commands.

I want you to speak up and tell the world that you and your writing and your blog deserve respect; from the Times On-Line, from the mainstream media and from every one of the millions of so-called "professional" journalists out there who have mused about whether blogs ruin journalism.

Write on bloggers
."
(Apologies to decent journalists, BTW.)